I know you may be looking at macarons and thinking, "What? Crazy-hard to make." But as I've mentioned before, they really aren't. You'll see my recipe doesn't require aging eggs over the course of a few days or drying out almond flour. Nope, this is a simple version.
I had to share this chocolate and blackberry macaron because (1) they are truly one of my favorite macarons I've made, and (2) this recipe is a perfect pairing with Driscoll's blackberries—warning: you may find yourself eating the filling by by the spoonful!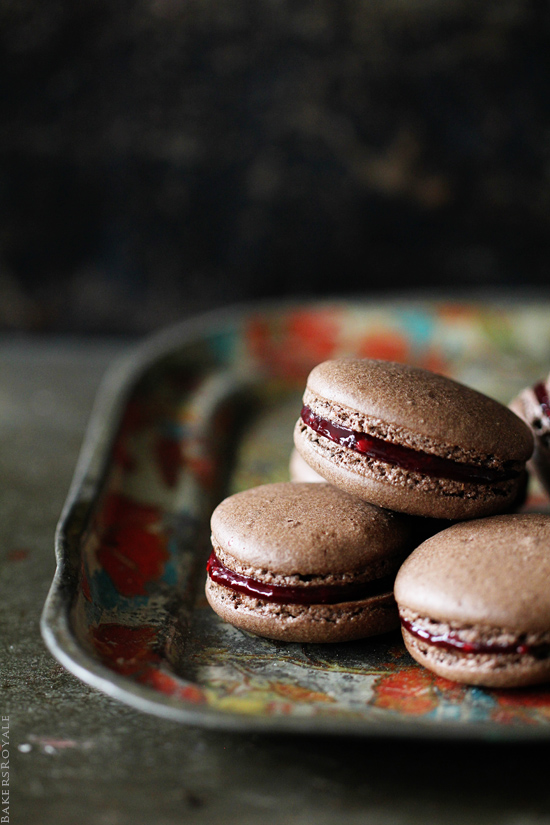 If you haven't noticed, I love making sweet treats, but what I love more than sharing the tasty treats are the relationships that develop over food. It's the community aspect of coming together. Along with that, many of my friends are still learning how to make macarons, so I thought no time better than the present to dive right into them. I figure we can all do this together and spread the Made with Love campaign (and psst. .  . hit the link to enter their sweepstakes going on now until Dec 31st).
So let's do this! To get started, make sure you read through the whole recipe if you are making macarons for the first time. Pay close attention to the visual cues for readiness while preparing the batter. I've also added weight and volume measurements – for these cookies, I find it easies to go by weight, but I know not everyone has a scale so the volume measurement were provided as well.
Most of all, don't worry if you don't have perfect little feet on your macarons—imperfect macarons are still great tasting macarons.
Chocolate Macarons with Blackberry Filing
Yield: Makes approximately 24-30, 1 inch cookies
Ingredients:
Chocolate macaron
135g (1/2 cup) egg whites (about 4 eggs)
45g (1/4 cup) granulated sugar
215g (2 cups plus 1/3 cup) powdered sugar
115g (2 cups plus 1/4 cup) almond meal
25g (1/4 cup plus 1 tablespoon) cocoa powder
Blackberry Filling
330g of pureed blackberry
55g granulated sugar
29g water
1 envelope of plain gelatin
Directions:
Instructions:
Preparation: Heat oven to 330 degrees. Line bake sheet with parchment.
To make macarons:
Trace out 1 inch circles on parchment and set this aside as a "master copy". Reserve two extra sheets of parchment and set aside.
Place egg whites and sugar in a stand mixer bowl and fit mixer with a whisk attachment. Beat on medium low speed until egg whites start to form loose translucent bubbles. Increase mixer speed to medium and beat until meringue turns foamy and white and starts to resemble well lathered shampoo, about 2 minutes. Increase mixer to high and beat until meringue holds glossy stiff peaks, about another 2-3 minutes. Turn off mixer.
Process almond meal, powdered sugar and cocoa powder in a food processor and then sift.
Add dry ingredients to meringue. Using a sturdy spatula fold and smash dry mixture into meringue against the bowl for about 20-25 folds. Don't worry about being gentle the idea is to knock the air out of it. The batter should hold its shape when spooned on itself and start to slowly flatten out after about 15-20 seconds. Start checking the batter after 20 folds for readiness. Transfer batter to pastry bag and let rest for 20 minutes before piping.
Place master copy of drawn circles on a bake sheet and then place a sheet of parchment on top. Pipe until batter reaches edge of circle. Remove master copy from underneath piped layer and place on second bake sheet and pipe remaining batter (remove master copy and save for future use).Take hold of each pan and give it quick hard tap against the counter, turn the pan 90 degrees and give it another quick hard tap. This will deflate any bubbles and prevent cracked shells.
Bake for about 15-17 minutes. Remove from oven and transfer to a cooling rack. Leave shells to cool completely on pan. Shells will cleanly peel away from parchment when ready.
To make blackberry filling
Place water and sugar in a small saucepan over medium heat, stir until sugar is melted. Transfer pan to wire rack to cool, about 15 - 20 minutes. Once cooled, sprinkle gelatin on top and leave untouched for 1-2 minutes for gelatin to bloom. Return pan to stove top and over low heat stir the mixture until the gelatin bloom melts and mixture resembles the consistency of maple syrup. Remove from heat and stir gelatin mixture into blackberry puree. Transfer to refrigerator to chill for about 10-15 minutes or until filling becomes thick and slightly sets.
Assembly
Pipe filling on one shell. Place a second shell on top.