Finally a guiltless pizza for your summer body, or if you are like me, you make this fruit pizza to clean out your the bits and pieces of fruit lying around in your fridge.
Of course when you go to make this, any variety of fruit will do. Use what you have or what's in season for your area—just don't forget the honey whipped cream and mint, especially the mint. It rounds everything out with a nice hit of sweet freshness.
And since this is all good for you – go ahead and have a few slices.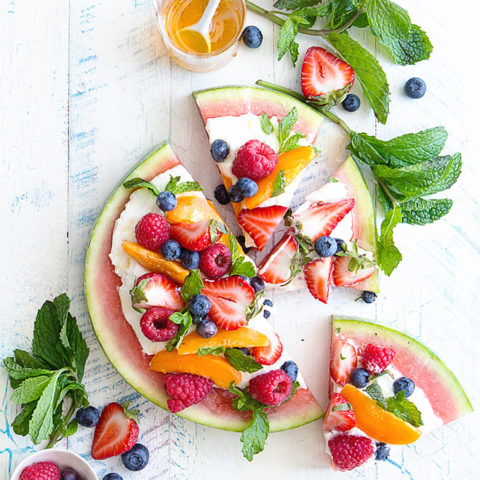 Fruit Pizza
Ingredients
1/2 cup heavy cream
6 tablespoons honey, divided use
1 large watermelon slice about 10 inches in diameter
1-2 small apricots, sliced
4-5 strawberries, quartered
6-8 raspberries
12-14 blueberries
sprigs of mint
Instructions
Place heavy cream in chilled mixer bowl and on medium-high speed beat until thick, about 2-3 minutes. Turn mixer to lowest setting and add in 2 tablespoons honey and beat until stiff peaks form, about 1-2 minutes. Spread whipped cream on top of watermelon slice and top with as little or as much fruit and mint as desired. Drizzle honey on top when ready to serve.