This year for New Year's Eve, I'm taking a lesson from last year: keep the food light, simple and pair it with a delicious bottle of wine. This way I can avoid spending too much time in the kitchen – and I can try to stay up past midnight!  While I'm still working on completing the full dinner menu, I do have dessert all figured out – and the wine too.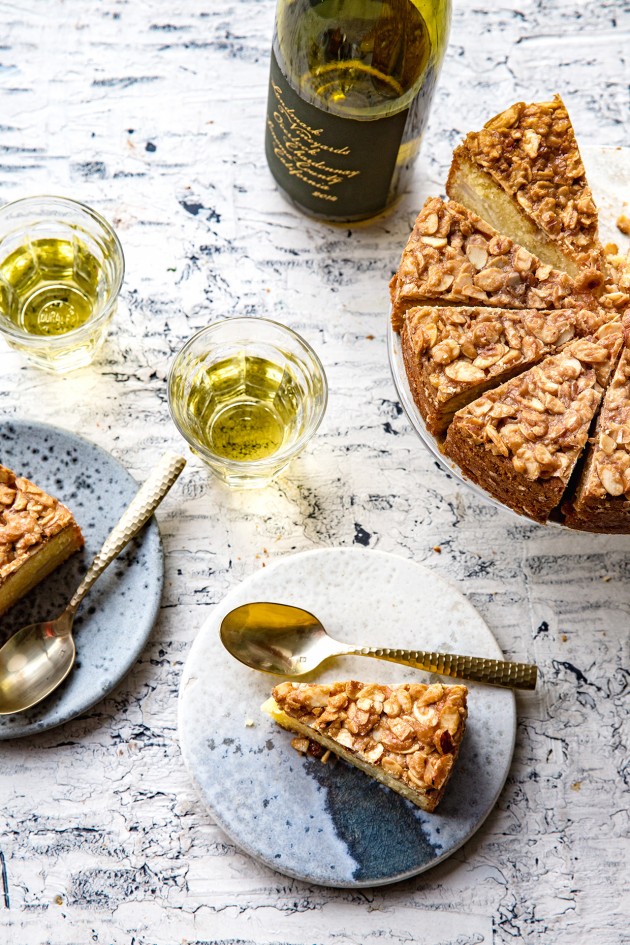 That's one of the many reasons I can't wait to serve my Almond Pear Cake along with the Landmark Vineyards' Overlook Chardonnay.  The combination of almond flavors in the cake and the wines crispness help elevate the soft poached pears in the cake. Each one plays off of the other's smooth fruity notes of pears and citrus. These two are a perfect match and will be a crowd-pleaser among my NYE guests.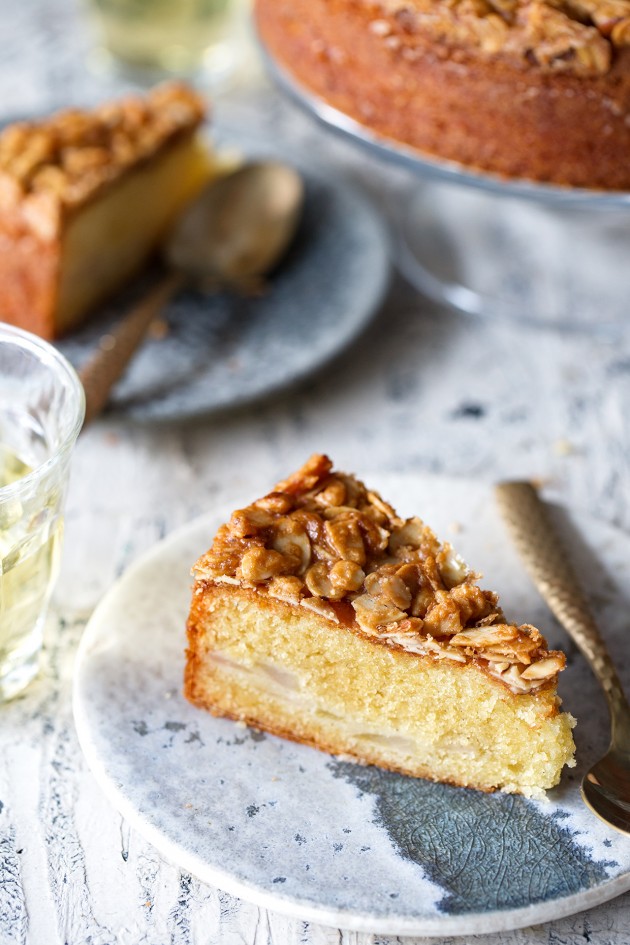 But more than anything, I especially love how the Landmark Overlook Chardonnay compliments so many of my recipes from savory to sweet, so much so that it has now become my go-to chardonnay that I keep on hand for everything, from everyday meals to holiday celebrations. For the next couple of days this Chardonnay will be playing a key role for entertaining with friends and family, and even gifting.  
Now that we have the wine pairing worked out, let's talk cake. Thankfully this cake comes together easily, since I'm sure most of us will be weary from all the holiday cooking and baking. To make things even better—since the pears are poached, the cake holds up beautifully even when prepared a day ahead.
Cheers to a little less kitchen time on New Year's Eve and more time to relax and have a glass of wine. Now if anyone has suggestions for a light dish for that evening please let me know in the comment's section along with what wine you will be serving it with. 
 
** This is a sponsored post in collaboration with Landmark Vineyards. All thoughts and opinions are my own.
Almond Pear Cake
Ingredients
1 cup tablespoon cake flour
1/2 teaspoon salt
1 teaspoon baking powder
2/3 cup sugar
5 oz. almond paste
3/4 cups butter
3 eggs
1 teaspoon almond extract
2 (7oz.) poached pears
Topping
4 Tablespoon butter
1/2 cup brown sugar
3/4 cup (70g) almonds
Instructions
Preparation: Heat oven to 350F. Butter and flour a removable bottom pan.
In a medium bowl, mix together cake flour, baking powder and salt. Set aside.
In a food processor, or alternately in a large bowl with a pastry cutter or two forks, process sugar and almond paste until mixture looks like wet sand. Place almond paste mixture and butter into stand mixer bowl, fitted with a paddle attachment. Beat on medium speed until well combined. Increase speed to high and cream mixture until light and fluffy, about 2-3 minutes. Beat in eggs, 1 at a time, making sure each is well combined before adding the next one. Add almond extract beat to combine. Turn off mixer, add flour mixture, using a sturdy spatula fold until just combined.
Thinly slice poached pears. Spoon half the batter into the prepared pan layer with pears and remaining batter. Transfer pan to oven bake at 350F for 50 minutes.
At the 40-minute mark of the cake baking prepare topping by placing butter and brown sugar in a small sauce pan. Bring to a boil. Fold in almonds. Remove cake from after 50 minutes and spread topping onto cake. Return cake to oven and bake for another 15-20 minutes, or until inserted cake tester comes out free of crumbs. Remove cake from oven and allow to cool for 10 minutes in the pan, before removing cake from pan.
Normal 0 false false false EN-US JA X-NONE /* Style Definitions */ table.MsoNormalTable {mso-style-name:"Table Normal"; mso-tstyle-rowband-size:0; mso-tstyle-colband-size:0; mso-style-noshow:yes; mso-style-priority:99; mso-style-parent:""; mso-padding-alt:0in 5.4pt 0in 5.4pt; mso-para-margin:0in; mso-para-margin-bottom:.0001pt; mso-pagination:widow-orphan; font-size:12.0pt; font-family:Calibri; mso-ascii-font-family:Calibri; mso-ascii-theme-font:minor-latin; mso-hansi-font-family:Calibri; mso-hansi-theme-font:minor-latin;} **Suggested Pairing: Landmark 2014 Overlook Chardonnay