I have four weeks to go before the current state of "all you can eat" fades to moderation once again. Until then, I'm staying the course. That means, this cake, the World's Best Cake from Sweet Paul Eat and Make: Charming Recipes and Kitchen Crafts You Will Love book is all mine to eat until every last crumb is licked off the plate.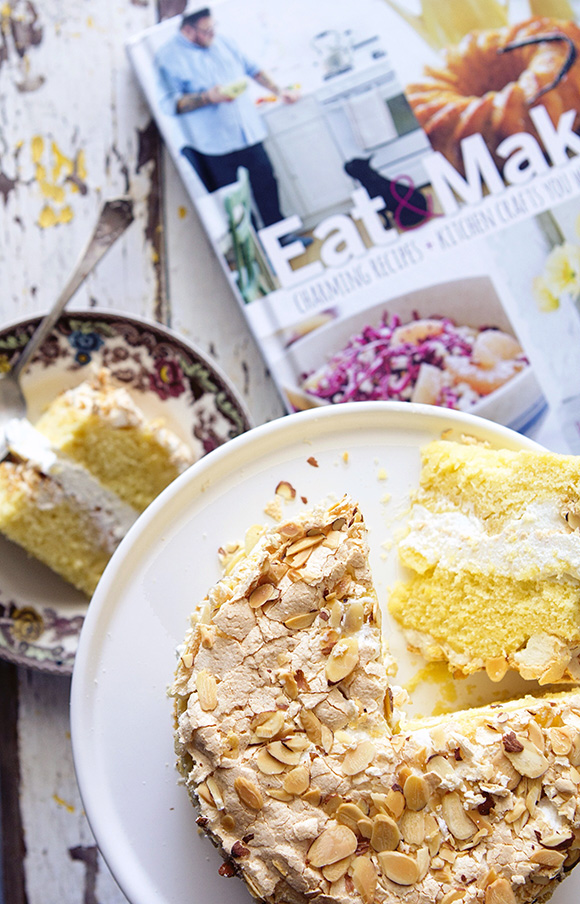 Trust me when I tell you the cake lives up to its name. I'll admit I was a bit hesitant at first, it seemed so simple in design that I thought there was no way it could displace some of my favorite go-to cakes with rich buttercream frostings and custard fillings.
Wrong. This one is now in my top 5 go-to cakes for all occasions. Reasons? One of the best yellow cake recipes—hands down.  Meringue for frosting? Yeah, crispy exterior with a soft marshmallow like inside almost makes you want to scrape that and eat it alone, but don't be foolish–the whole is greater than the sum of its parts. And finally the whipped cream layer is the final balance that quietly brings it all together.
Now beyond this recipe, let's review the book, shall we:
By the numbers:
Over 65+ plus recipes and 35 craft projects
Approximate book cost: $22.
What I liked and you might too:
The book is full of easy elegant recipes that aren't fussy in procedure, nor will they require ingredient after ingredient. Nope it's simplicity that delivers in every delicious way. As for the crafts—same philosophy applies—the crafts are created from everyday objects and spun into Pin worthy crafts that are useful and beautiful. In between all that are stories from his past and present day life that will draw you in and make you want to brunch with him and his friends.
And oh, the pictures, they are stunning along with the whole design of the book. Once you get pass the recipes and crafts, you can't help but get caught up in the fine design of every page.
The next two recipes and craft project in the queue for making:
Breakfast Polenta Hazelnuts, Honey and Pears – This is one of those recipes that can go either way—a great meal for a lazy Sunday Brunch or for more formal holiday breakfast.
Smoked Salmon Hash with Scallions, Dill & Eggs – This is the kind of meal you can easily throw together for a crowd or for one. For me, I'm going to make it, then pair it with The Merry Mary cocktail and enjoy it in bed with the Sunday paper.
As for the crafts, first up: the natural dipped-dyed tablecloth.
"World's Best Cake"
Ingredients
10½ tablespoons (1 stick plus 21⁄2 tablespoons) butter, softened
12⁄ 3 cups granulated sugar
11⁄ 3 cups unbleached all-purpose flour
1 teaspoon baking powder
5 large eggs, separated
1⁄ 3 cup whole milk
1⁄4 cup sliced almonds
1 cup heavy cream
1⁄2 vanilla bean
Instructions
Preparation: Heat the oven to 350°F, with a rack in the middle position.
Line two 6 inch removeable-bottom cake pans with parchment paper. Beat the butter and 2⁄ 3 cup of the sugar in a large bowl with an electric mixer until light and creamy, about 3 minutes. Add the flour and baking powder and mix well on low speed. Mix in the egg yolks and milk. Evenly divide the batter between the pans.
In a large clean bowl, beat the egg whites and the remaining 1 cup sugar to soft peaks. Evenly divide meringue and spread on each cake layer. Sprinkle with the almond slices. Bake for 30 minutes, or until the meringue is golden brown and puffed. Cool on a wire rack in the pan. When the cake is cool, put the cream in a medium bowl and scrape in the vanilla seeds. Discard the vanilla pod. Beat to soft peaks with an electric mixer, about 3 minutes. Spread the cream on top one cake layer and then place the second cake layer on top. Let the cake sit for 1 hour in the fridge before serving.