Because it's going to heat up very soon, I made you some tea—a Tropical Fruit Punch Iced Tea. And I layered it because, why not? Sure I could have just stirred it all up, but who doesn't like to have options? And this way, the layered look makes it party-chic. Of course, either way you pour it, stirred or layered, the resulting taste is the same—glorious.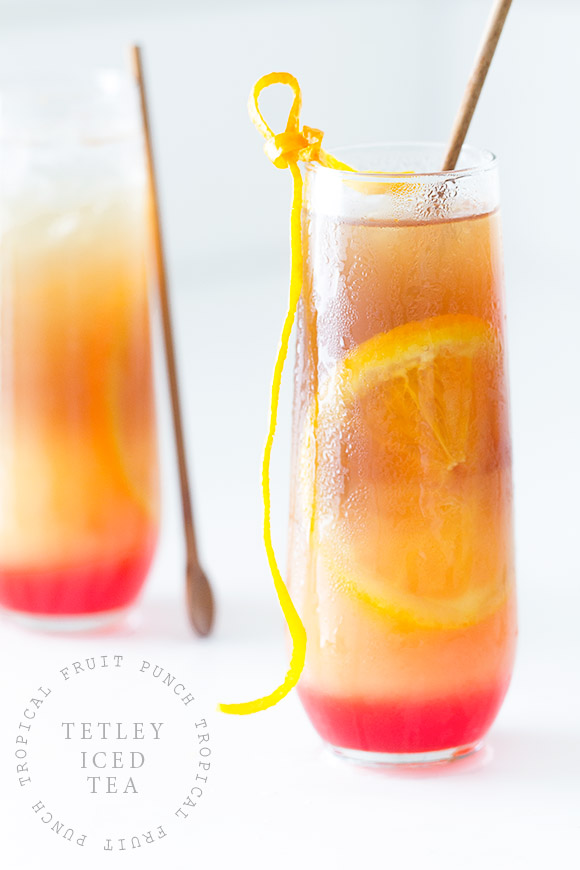 The grenadine's slight tartness tempers the sweetness of the pineapple juice just enough to keep the tea the star of the drink, while giving it a tropical twist. And trust me when I say you want to keep Tetley's Black & Green tea the star. The duo blend lends the best of two teas, the robust flavor of black tea and all the health benefits of green tea.  
Now if you know me, then you now I'm a huge tea fan, so I love it when I can work a good tea into my baked goods like here, here, here and here. That said, stay tuned, because I can't wait to share my next sweet treat using this black & green tea blend from Tetley.
Tropical Fruit Punch Iced Tea
Yield:
Makes 4- 6 servings
Ingredients
2 cups water
3 Tetley Black & Green Tea pouches
1 cup pineapple juice
1/4 cup grenadine
orange slices (optional)
orange garnish (optional)
Instructions
Bring water to a boil. Once boiled, remove water from heat source and steep tea pouches for 5 minutes; set aside to cool completely. Place ice cubes in glass. Pour in pineapple juice half way up glass. Add in 1-2 teaspoons of grenadine. Slowly pour tea on top until remaining portion of glass is filled. Stir upon consumption. Orange slice and garnish, optional.
Notes
Notes:
The recipe is written for a strong brew of tea to balance out the sweetness of pineapple juice. Optionally, to sweeten the tea, add some honey or simple syrup to taste. I personally like the taste of tea with very little sweetener, so the pineapple juice provided the right amount of sweetness for me.