We all know the HomeBowl is the most anticipated football game of the year. So this year I'm going big, to score big with Coca-Cola & NABISCO to create some killer recipes. Because let's face it, next to the game, the food is what makes the party!
Today, I'm sharing little bites, because if you know me, then you should know I would happily give up utensils for finger foods. That said, I also like serving finger foods for gatherings like this because it keeps everyone moving and interacting around the food table. So when you create that food table, make sure it's pulled away from the wall and can be entered from every side. This will keep the movement of food flowing and it encourages people to hover, hang and chat!
As for what I'll be serving, here are two new ones I'll be adding to my rotation: (1) Sticky Coke Wings – think sweet and savory with a little heat. (2) Chicken and Waffles Bites – everyone's favorite miniaturized to continue with the finger food theme.
Now that you are in the know, go grab some Coca-Cola and RITZ Crackers to get started. And for even more inspiration, head over to www.homebowl.com where you can find more game day recipes, tips, inspirations and you can even create a custom "Home Bowl" Evite.
Lastly . . .there's a giveaway!! It's a "Home Bowl" Pinterest contest. Here's how works:
Giveaway: Two winners will be chosen. Winner will be awarded a "Home Bowl" party prize pack from Coca-Cola & Nabisco* valued at $400 (approximate retail value).
Giveaway Date: The giveaway entry date begins 1.26.2016
Giveaway Entry**: To enter the contest, you must complete each of the following items: (1) Create a Pinterest board titled Coca-Cola & NABISCO #HomeBowlHeroContest (2) Pin your favorite game day food and drinks, party tips or a combination thereof (3) Each pin posted to your Coca-Cola & NABISCO #HomeBowlHeroContest must include the hashtag #HomeBowlHeroContest (4) Copy and paste the Coca-Cola & NABISCO #HomeBowlHeroContest board URL in the comment section of this post.
Winner Selection: Winner(s) will randomly be selected and contacted via email provided in the comment section. Winner(s) will have up to 72 hours to respond to notification with a valid phone number and address.
*The prize was provided by The Coca-Cola Company and Mondelez Global LLC. The Coca-Cola Company and Mondelez Global LLC is not a sponsor, administrator or connected in any other way with this [contest].
** Coca-Cola and NABISCO do not need to be shown or included in any pins to be eligible to win.
This is a sponsored post in collaboration with Coca Cola.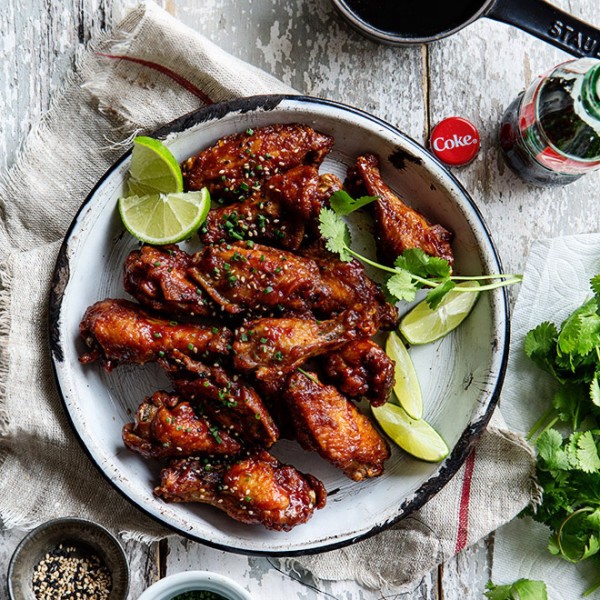 Sticky Coke Wings
Ingredients
5 pounds chicken wings, tips removed, drumettes and flats separated
1 can Coca-Cola
1 cup ketchup
1 cup brown sugar
2 tablespoon soy sauce
2 tablespoon Worcestershire sauce
2 tablespoon Sriracha
1 teaspoon paprika
Instructions
Heat oven to 400°F. Line two large baking sheets with a wire rack. Divide wings between prepared racks and spread out in a single layer.

Bake until wings are cooked through and skin is crispy, about about 45-50 minutes. Remove from oven and transfer wings to a plate. Prepare baking sheets once more by lining both baking sheets with foil and wire rack on top; set aside to prepare sauce.

Place remaining ingredients in a large saucepan over medium high heat and bring to a boil, lower heat and let simmer until slightly reduced and thick, about 5-7 minutes. Toss wings in sauce. Evenly divide and place wings in a single layer on rack. Bake until glaze is glossy and lightly cartelized, about 8-10 minutes.

Mini Chicken and Waffles

Makes 1 dozen bites
1 cup all-purpose flour
1/2 cup crushed RITZ Crackers
2 tablespoons sugar
1/2 tsp kosher salt
3 large eggs, separated, room temperature
1 cup sour cream, room temperature
1 tsp vanilla extract
1/2 cup (1 stick) unsalted butter
1/3 cup water
Fried chicken (your preferred recipe)
pickles
To make waffles: In a medium bowl, whisk together flour, crushed Ritz crackers, sugar, and salt in a medium bowl; set aside. In a second bowl, whisk in egg yolks, sour cream, vanilla, butter and 1/3 cup water. Add wet ingredients to dry ingredients and whisk until smooth; set aside.

In a separate bowl, using a hand-held mixer, beat egg whites to stiff peaks. Gently fold egg whites into batter.

Spray waffle iron with vegetable spray and heat until very hot. Working in batches, cook waffles until golden brown and crisp.

Assembly: Layer waffles with chicken and sprinkle with parsley, finished with a slice of pickle.