There is nothing like Sunday dinners to me. Often times we go to Matt's mom for a comforting home style meal, but on the ocassions we don't, I resort to easy staples like this bolognese.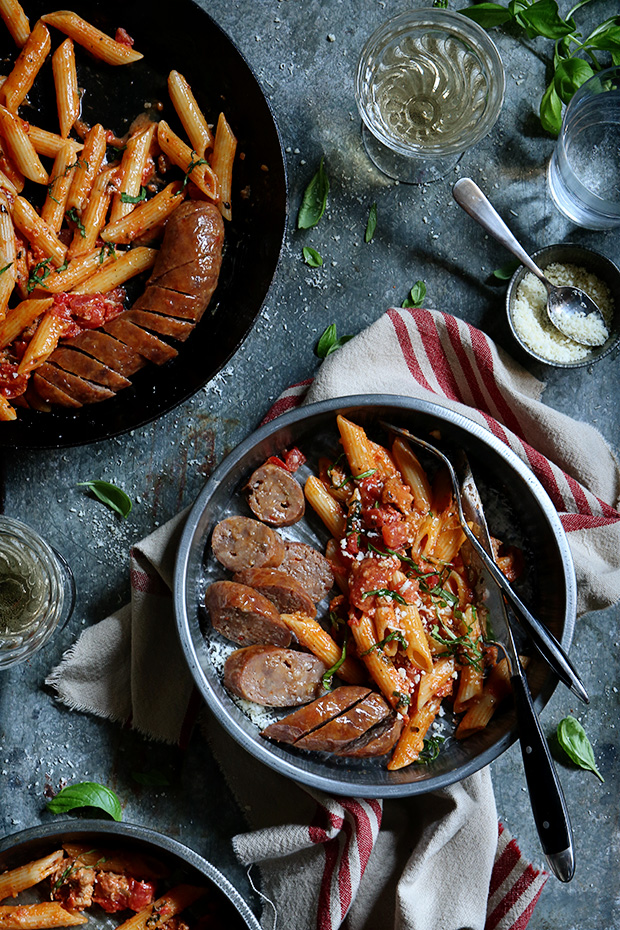 To give this family favorite a flavor boost, I use Johnsonville's Sweet Italian sausage. For simplicity, I cook it in the oven—just line a baking sheet with foil and place the sausage on top and it's nearly done by the time the pasta is ready.
What can be easier than that? Only one thing—have someone else make it. And that's exactly what I did a few Sundays ago. Matt and Cole had dinner duty, so easy recipes like this are great when the little guy is the sous chef.
Sausage Bolognese
Ingredients
1 package (19 ounce) JOHNSONVILLE® Italian Mild Sausage Links
2 tablespoons extra-virgin olive oil
2 medium onions, finely chopped (about 1 1/2 cups)
2 celery stalks, finely chopped (about 1 cup)
2 carrots, peeled, finely chopped (about 3/4 cup)
1 pacakage (16 ounce) Johnsonville Ground Mild Italian Sausage
1/2 cup dry red wine
3 cups (about) beef stock or chicken stock, divided
3 tablespoons tomato paste
Kosher salt and freshly ground black pepper
1 cup whole milk
Instructions
Place sausage link on foil lined baking sheet and bake at 350 degrees for 20 minutes or until cooked through.
Heat oil in a large heavy-bottom pot over medium-high heat. Add and salute onions, celery, and carrots until soft, about 8-10 minutes. Add ground sausage cook and break up with a spoon; cook until browned, about 15 minutes. Add wine; boil 1 minute, stirring often and scraping up browned bits. Add 2 1/2 cups stock and tomato paste; stir to blend. Reduce heat to very low and gently simmer, stirring occasionally, until flavors meld, 1 1/2 hours. Season with salt and pepper.
Bring milk to a simmer in a small saucepan; gradually add to sauce. Cover sauce with lid slightly ajar and simmer over low heat, stirring occasionally, until milk is absorbed, about 45 minutes, adding more stock by 1/4-cupfuls to thin if needed.
Cook pasta according to package. Drain, reserving 1/2 cup pasta water. Transfer ragu to a large skillet over medium-high heat. Add pasta and toss to coat. Stir in some of the reserved pasta water by tablespoonfuls if sauce seems dry. Serve with Parmesan.