I'm almost embarrassed to share this simple 15-minute recipe—almost, but not enough not to share this easy Mediterranean Omelete.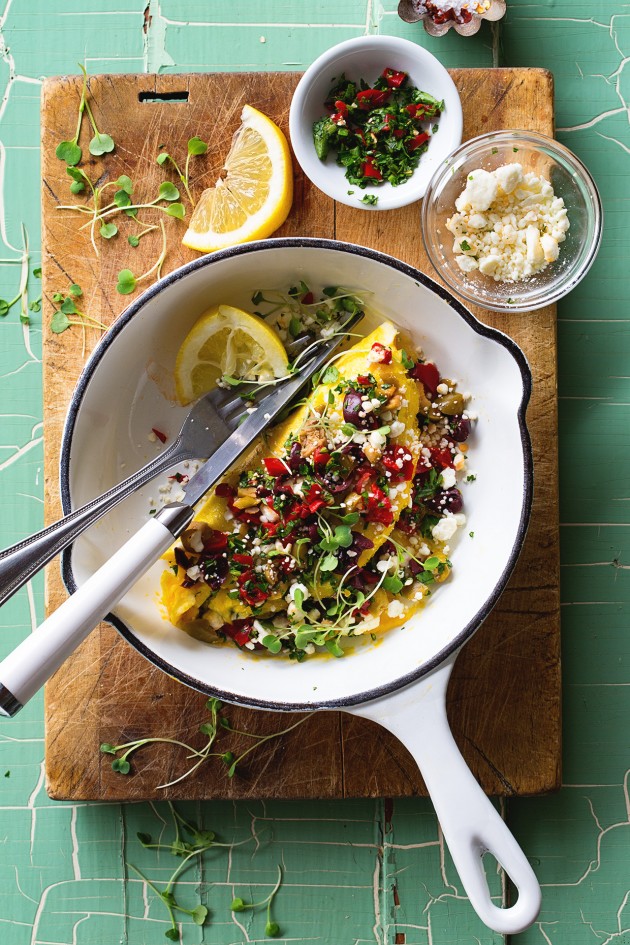 Psst . . . to bypass all the flavor building, go for deli olives and peppers. Just make sure to buy the pitted ones. I made the mistake and didn't do that, so I had to spend a few extra minutes pitting. For the greens I skipped the traditional spinach add-in and went for micro arugula because I prefer the added peppery bite.
See how fast and easy that is? Fast enough that I made it twice in one day, but more because I didn't want to waste the few deli olives that weren't used in the first round, but more than that—I absolutely hate a cluttered fridge.
It stresses me out. I like a clear sight to the back of the fridge. I know, weird quirk #300-and-eleventy!
Recipe note: This recipe easily scales up or down according to your serving needs. As you can see in the photo, I made a serving for just me because my little guys hate Feta (at least for now). The recipe as written is scaled up to serve 4.
Mediterranean Omelet
Ingredients
6 large eggs
1/2 teaspoon kosher salt
1/4 teaspoon freshly ground black pepper
Filling
2/3 cups (4 oz.) pitted deli olives, diced
1/2 (3 oz.)cup roasted red pepper, diced
1/4 cup (1.5 oz.) Feta cheese
*Optional: 1 oz micro Arugula
Instructions
In a large bowl, whisk together eggs, salt and pepper; set aside. In second bowl mix together filling; set aside.
Place a 10-inch non-stick pan over medium heat; let pan become hot. Add butter, let sizzling subside then add egg mixture.
Tilt and swirl pan as needed to spread the eggs mixture evenly. Once egg mixture just starts to firm, scrape egg mixture slightly towards the center to create a gap and swirl pan to direct wet eggs to fill gap. Repeat as needed until egg mixture starts to cook almost through. Add half of filling to one half side of omelete. Fold over other half. Slide omelete onto plate and top with remaining filling (and micro greens if using).