**This post is written in collaboration with Stonewall Kitchen. All opinions are my own.
After what seems like an eternity, my house of sickness is finally clearing out. I maybe forcing the issue prematurely by celebrating and throwing a summer BBQ that involves some tropical flavors, but I can't think of a better way to get everyone back to sane and normal than getting them outside and with food like this.
It started the last week of May with my 10-year-old getting severely sick and missing school for a week. Fast forward a few days and then Matt took his turn who then passed it onto the toddler, who ended up in the hospital from it. Being that I've been the caretaker for the last 30+ plus days, I desperately needed some sunshine and good food—whether they were ready for it or not. Admittedly, Matt and the toddler are still moving slow and at 85%, but I'll take that over hospital runs any day.
And I've always been a believer that getting up, moving around and eating speeds up recovery. To entice everyone to get outside, I planned a BBQ meal that I knew everyone would like. To start, I used one a few of my favorite Stonewall Kitchen products to take my basic recipes from good to great. For the chicken I used their Cubano Mojo Sauce it adds just the right amount of sweetness and depth that caramelizes beautifully at high heat.
I loved it so much, I mixed it into my German Potato salad along with their Lemon Dijon Vinaigrette. The combination gave the ensemble just the right amount of acidity and dimension. Of course, my little guy loves his with an extra bit of chives and bacon. Next to the taste this potato salad also holds up way better and longer on those hot summer days when it's classic mayo-based cousin starts to separate.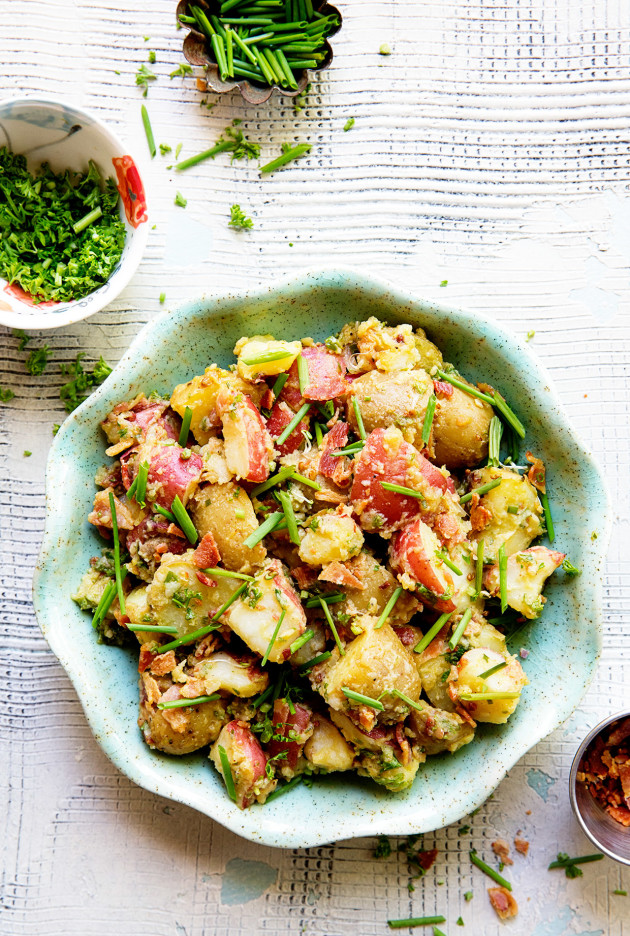 Pair all this with a kiwi margarita and you got a summer BBQ that comes together in under an hour. Yay to that and yay to some sunshine and banishing all the sickness from my home!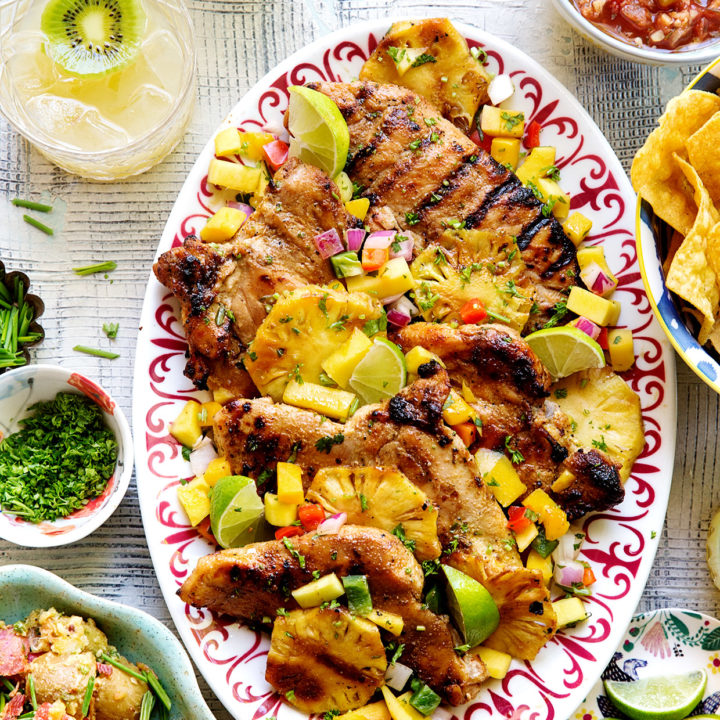 Grilled Mojo Chicken
Ingredients
6 chicken breasts, pounded to 3/4 inch thick
4-5 tablespoons kosher salt
4 teaspoons fresh cracked pepper
1 tablespoon onion powder
1 tablespoon garlic powder
1/2 cup Stonewall Cubano Mojo Sauce
Instructions
In a small bowl whisk together kosher salt, cracked pepper, onion powder and garlic powder. Heavily coat each chicken breast with mixture. Place chicken on a cooling rack set over a baking sheet The idea is to have air circulate below and above the breasts for a quick brine. Set aside at room temperature, in the meantime heat the grill.
Preparation: Heat gas grill on high for 15 minutes with the lid down. Open lid and turn down heat to medium, wait for 5-7 minutes for grill temperature to drop to about 400F. Oil grates with canola oil.
Alternately, if you are using a charcoal grill. Heat charcoal until white and ashy. Oil crates with canola oil.
Place chicken breast on prepared BBQ and grill for 5 minutes. Turn and grill for another 5 minutes. Brush one side with Cubano Mojo Sauce and grill for another 2 minutes. Brush remaining side with Cubano Mojo Sauce and grill for another 2 minutes. Check the internal temperature of the chicken for doneness (chicken should be at 165 F). **Optional: Serve with grilled pineapples and mango relish.
Notes
German Potatoes
Serves 6
4 cups water
2 tablespoons kosher salt
1.5 lb. red fingerling potatoes, cut to 1/2-inch pieces
1.5 lb. gold fingerling potatoes, cut to 1/2-inch pieces
6 pieces bacon
2 tablespoon finely chopped shallots
1/4 Stonewall Kitchen Cubano Mojo Sauce
1/4 cup Stonewall Kitchen Lemon Dijon Vinaigrette
3 tablespoons parsley
2 tablespoons chives
1 1/2 tablespoons fresh lemon juice
1 teaspoon fresh black pepper
In a 3-quart pot bring water and salt to a boil. Carefully add potatoes and turn heat down to a simmer, cook potatoes until they are easily pierced with a fork, about 15 minutes. Remove from heat, drain and rinse with cold water. Transfer to a large mixing bowl and set aside to cool.
In the meantime, cook bacon in a large skillet until crispy. Remove bacon and pour out all but 1 tablespoon of bacon grease. Add shallots and cook until translucent, about 2 minutes. Fold shallots into potatoes. Coarsely chop bacon and fold into potatoes. Set potato mixture aside to cool to room temperature.
Once cooled, add remaining ingredients: Stonewall Kitchen Cubano Mojo Sauce, Stonewall Kitchen Lemon Dijon Vinaigrette, parsley, chives, lemon juice and black pepper. Fold and mix to combine. Serve at room temperature or chilled.