Oh, I just had to—there's just something I love about photographing smashed, spilled, dropped or otherwise "deconstructed" food. Yes, it's still edible. So with that out of the way, let's talk gluten-free cake.
The cake was actually born out of macarons gone bad. I accidentally grabbed the coconut flour instead of almond flour. It wasn't until I started mixing that I realized my mistake. And, being the cheapo that I am, I didn't want to waste what I had started and decided to flip it to a cake.
The short of this kitchen mistake turned bountiful: 30+ plus eggs later and with test runs that included mayo, yogurt, and buttermilk—I finally found the right ratio and the magic ingredient. It's not the yogurt, because that made the cake too wet and gummy and the buttermilk left too much of a strong tangy aftertaste. Of all things—it was the mayonnaise that pulled it altogether.
Weird, right? Well, sort of. It's not at all that weird if you've made a chocolate cake with mayonnaise. Which I have, so I understood that it can add a lot of moistness and tenderness to the crumb. What it couldn't do in this cake was replace the eggs as it does in chocolate cake.
If you're wondering about the texture, it's like sponge cake meets pound cake. The taste, well—it's spot-on—and "coconutty", as it should be since it's made with only coconut flour.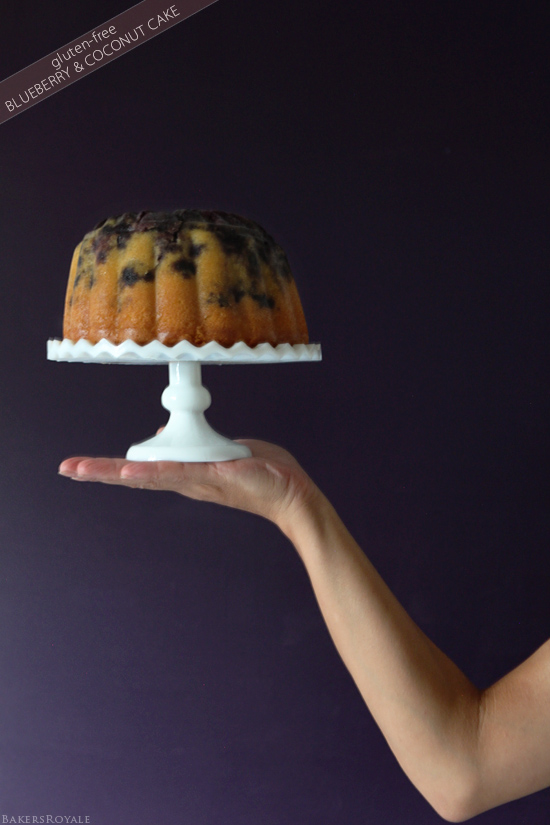 A few notes:
The recipe is written in weight measurements for accuracy.
Keep in mind the egg white and coconut flour mixture will be stiff and and thick, not wet.
For the coconut butter I used MaraNatha brand. Coconut butter tends to separate when settled, so make sure to put a spoon to it and mix it up before measuring it out.
The coconut flour I used is Let's Do Organic, but since coconut flour is naturally gluten free use any brand you can find in your area.
For the baking powder I used Clabber Girl. I mention this because, apparently not all baking powder is considered gluten-free and this one is, even though it's not advertised as such. But if you have a gluten allergy – please verify this on your own.
Gluten-Free Coconut Blueberry Cake
Yield:
Makes 1 10 in. bundt cake
Ingredients
130 g coconut flour
105 g powder sugar
5 g baking powder
195 g egg whites
75 g granulated sugar
40 ml vegetable oil
60 g coconut butter
25 g mayonnaise
255 g eggs
170 g blueberries
Instructions
Preparation: Cover bundt pan with bake spray. Heat oven to 350 degrees F
Sift the coconut flour, powdered sugar and baking powder together; set aside. Place the egg whites and granulated sugar in a stand mixer bowl fitted with a whisk attachment, beat on low until mixture becomes opaque. Increase speed to high and beat until mixture holds stiff peaks and gathers in and around the whisk even when it is lifted out of the bowl.
Dump coconut flour mixture into egg white mixture and fold to combine until well incorporated. Mixture will be thick and stiff (almost cookie dough like).
Place oil, butter, mayonnaise in a mixer bowl fitted with a whisk a attachment and beat on medium high until combined. Add in one egg at a time, making sure each one is well incorporated before adding the next.
Decrease speed to medium and add egg white mixture and beat until incorporated. Turn off mixture and fold in blueberries. Pour cake mixture into prepared pan and bake at 350 degrees F for about 40 minutes or cake tester inserted in the center of the cake comes out clean (a few crumbs are okay). Remove from oven and cool on rack.