Forget being dainty, open wide and you'll be able to have these frozen peanut butter pies in one bite. Sure it's not necessary, but it might be if you are in the company of others who are doing the same and there is a limited amount.
Let's celebrate eating the way it should, that is without all those pesky etiquette rules. I'm not advocating this all for every situation, but in the company of those near and dear who's to judge how you take your bite.
See I'm trying not to be so uptight with the way my son eats. I made these and he and his friends loved them. Cole especially, since peanut butter and honey is one of his favorite combinations. They ate them up kid-style, by that I mean cheeks bulging from over-stuffing, finger licking from the honey drip, and napkins bypassed for a clean wipe with a back of the hand mouth sweep. Of course I looked over at Matt for reinforcement, who gently told me whispered, "It's okay, he's a kid, let him enjoy it his way."
Okay, but the napkins are right there! 
But I kept quiet. Any whoooo…..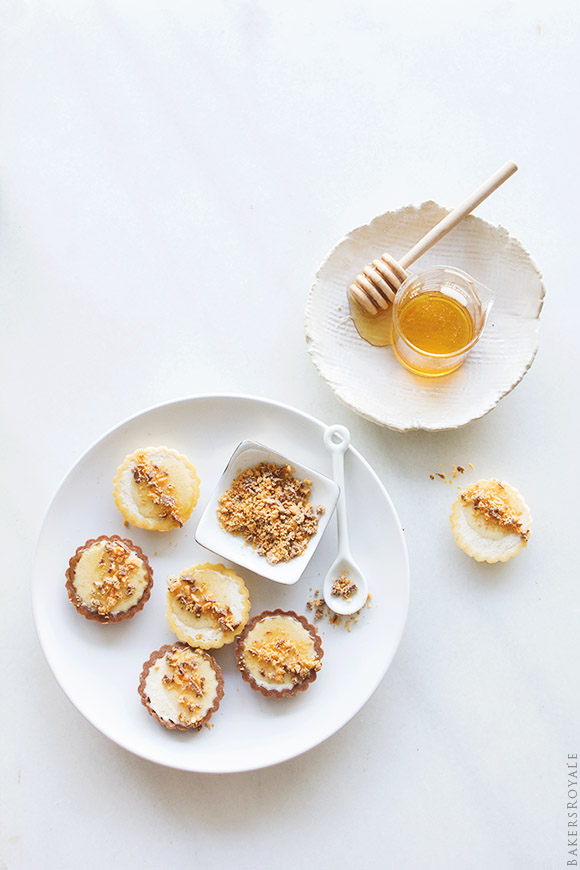 Let's talk food. This is a BHG recipe, so hit the jump here for some tips for tweaking this to make it your own. The original recipe can be found here. I gave it a Butterfinger twist, since I found a stash of them leftover from when Matt made these Butterfinger Pudding Pops.
Peant Butter & Honey Mini Pies
Ingredients:
2 1/4 cups whipping cream
1 1/4 cups creamy or chunky peanut butter
1 cup powdered sugar
1 cup (about 15) bite-size chocolate-covered peanut butter cups, chopped
1 purchased chocolate cookie crumb pie shell
6 chocolate-covered peanut butter cups, halved
Directions:
For the remainder of the recipe, click here.
Since I adapted the recipe, I skipped chocolate cookie crumc pie shell for mini pre-made tart shells and added crushed Butterfinger on top along with some honey.