**This is a sponsored post in collaboration with The Cheesecake Factory. All thoughts and opinions are my own. 
A few weeks ago, I had a chance to tour the kitchen of The Cheesecake Factory with their Chief Culinary Officer, Donald Moore, for a behind-the-scenes look at how they prep and cook all 250 menu items from scratch every day in all the Cheesecake Factory restaurants.
I've been a Cheesecake Factory super-fan forever. I love the extensive menu because that means there is something for everyone and the consistency has always been key. There is nothing worse then failed expectations.
Next to consistency there are two other things I always look for when I put a restaurant on my go-to list: quality and service. Give me those three things: (1) consistency (2) quality (3) service; and I'll happily wait for my name to be called. Fail me on one of the three and I'm likely to give you one more chance. Fail me on two and you've lost me forever.
The Cheesecake Factory has been giving me those three things year-after-year, so naturally I'm a super fan. And this super fan just learned something new with my recent kitchen tour of the Cheesecake Factory.
I had no idea ALL 250 items were from scratch everyday at every location. I figured some of the less ordered items come in pre-baked, pre-made or given some sort of flash freezing from some magical quality controlled place. I thought that was how the Cheesecake Factory maintained their consistency over all 194 restaurants.
I was dead wrong. And I've never been happier to be wrong, especially since the Cheesecake Factory is mine and my little guy's top Mom and Me restaurant. Mom and Me restaurants are places he chooses for what it sounds like, time for just the two of us to hangout and eat.  He's 11 and the little chef and foodie in the making. We love going here for many reasons, but his seems to be working his way through all 250 items.
Whoa! That alone is a year of dining out in the making. Now that I know everything is made from scratch everyday, I'm even more excited about making our way through the menu. Besides that, who am I to say no to making sure his palate is exposed to as many flavors and cultures as possible.
Here are few standouts from my visit that I can't wait to share with him and you should definitely try too:
Spicy Shanghai Noodles. Get your slurp on for these stir-fried Shanghai noodles made with a sweet-hot sesame ginger sauce that will have you scraping your plate.
Lasagna Verde. Lasagna Verde. Ready to get more greens in every bite? This is the dish to order. The lasagna is made with layers of fresh spinach pasta and tucked between it are gooey layers of mozzarella, Fontina and Parmesan cheese that's then covered in their housemade tomato-mushroom and marina sauces.
Pork Belly Sliders. Sliders get me every time, but throw some fried pickles on perfectly slow roasted smoked pork belly and I'll talk to you once I finish the last bite.
Cheeseburger Spring Rolls. Order two of these – they go quickly. Hard to deny a crunchy wrap around a cheeseburger center.
Tropical Tiki Punch. Meet your new go-to tropical cocktail. Order this and savor all the sandy tropical beach feels in a sip.
The Cheddar Stuffed Burger. What I like the most: the juicy, tender patty, the gooey cheese filling, the crispy lace crust on the patty (always the mark of a well cooked burger), the toasted brioche bun (because nothing ruins a perfect patty like a bad bun).
The Chicken Parmesan "Pizza-Style". Nowadays novelty concept food like this can be such a feast for the eyes, or a well-named recipe can you draw you in, but the flavor just falls flat at first bite. Not this one. I loved that it was flattened out to around disc, giving the chicken to parmesan crust the prefect ratio.
The Coconut Lime Chicken. The is a new item that shouldn't be missed. The coconut curry sauce is good enough to eat by the spoonful.
If you are looking for something on the skinny side, check out the Skinnylicious menu. There are 50 items to choose from. The Grilled Steak Medallions are a must. The only skinny thing about this dish are the calories and you won't miss them.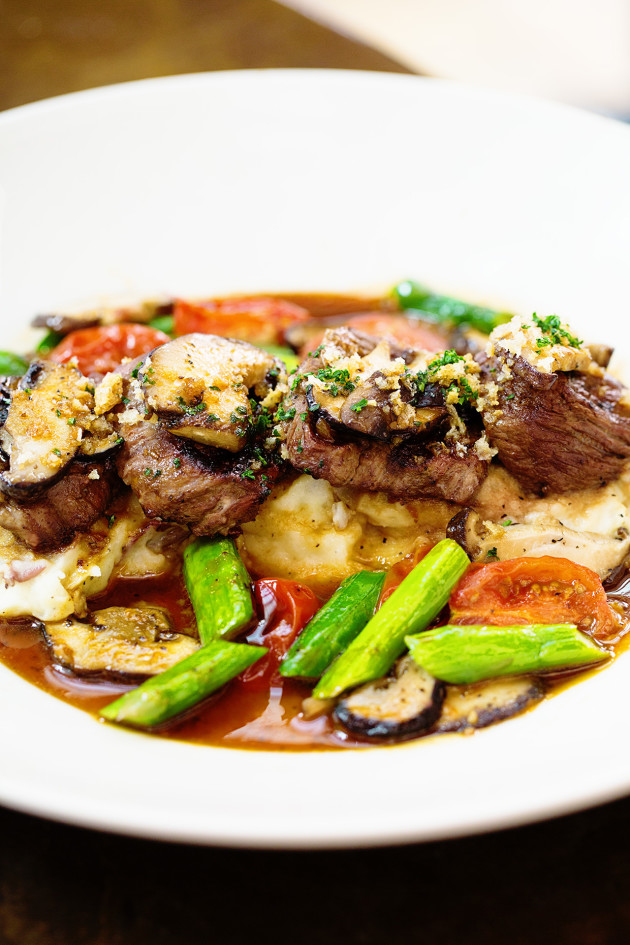 If you have any recommendations for must-haves from the Cheesecake Factory, or strategies for the little guy and I to work our way through the extensive menu, let me know in the comment section.