I guess I could've called these drunken banana bites, after all it is a chocolate covered banana bite dipped in rum caramel and wrapped in toasted marshmallow. And yes, I know,  there's a lot going on in this banana dessert recipe, but it's all things you should try—in one bite. I can't even tell you what possessed me to put together such a beautiful mess, but I'm glad it did come together.
Because while I was assembling this, my impatience led me to eat about one for every three I assembled. By the time I was done, I had ended up with a lot less than I intended. Apparently self-control is an issue sometimes, but really do you blame me on this one? Lucky for me, they weren't for any occasion other than I was craving it.
As for the slight variation in name—drunken banana bites vs drunken monkey marshmallows, I wasn't sure what to call this, so I put a query out on Instagram and I had some great suggestions. The best one was from  Lindsey of Café Johnsonia. I love the name Drunken Monkey Mashmallows! While we are talking about her, head over and check out her blog–it's way cool.
And here are some step-by-step photos. Sorry for the bad quality—iPhone shots under bad lighting conditions—but you get the idea.
A few notes:
Medium ripe bananas work best.
If you don't have a kitchen torch use the oven method mentioned in the recipe. If you are on the market to buy one, save yourself some money and just buy a Bernzomatic propane torch instead  of one of these kitchen torches you usually see in William Sonoma and Sur la Table. They can be twice the price and aren't nearly as strong.
The caramel recipe may yield more than you need. If so, save the left over in a tightly sealed container in the refrigerated for other desserts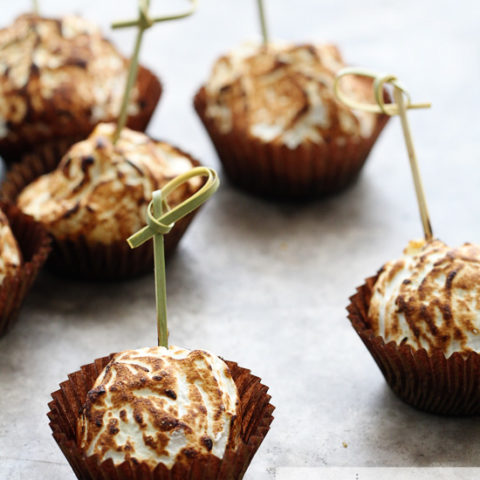 Drunken Monkey Marshmallows
Ingredients
3 large bananas, sliced into 1/2 inch pieces
8 oz. dark chocolate, melted
1/2 cup of caramel sauce from this recipe here
2 large egg whites
1/3 cups sugar
1/2 teaspoon vanilla
Instructions
Dip banana slices into melted chocolate and place on wax paper for chocolate to set. (This portion can be made up to a day in advance.)
To make the rum caramel follow the recipe here. (This portion can be made up to two weeks in advance and kept refrigerated.)
Place eggs and sugar in a heat proof bowl over (not on) simmering water and medium heat. Whisk mixture continuously until it reaches 165 F on a candy thermometer or until mixture is free of any sugar granules when rubbed between two fingers. (If you try the latter method make sure to place a dallop of the mixture on a plate to cool before you rub betweeen to fingers). Move mixture to a stand mixer bowl and beat until medium peaks form and mixture is glossy.
To assemble: Dip chocolate covered bananas in the rum caramel, then cover it in the marshallow mixture and place it on a bake sheet for toasting. To toast, use a handheld torch or place bakesheet under the boiler and toast for about 1-2 minutes on each side. Place a stick in the center and serve.