I'm not sure if retooling a recipe for another post is some kind of food blogger faux pas, but I did it. I couldn't help myself and since we've established that I'm not very good at rules and such, I retooled those awesome brownie cookies from Monday into today's awesome brownie sandwich cookies.
Along with that, we all know my issue with boredom, so I decided to turn what was left over of the cookies into something new. Something that could sandwich my chocolate malted buttercream and vanilla malted buttercream.
This is the kind of cookie that will make your inner fat kid scream with delight. In my case it's that, along with the growing kid in me doing somersaults and fist pumps for more. Okay, so he might just be kicking, but the kid is wacky active—to the point, that I was concerned enough to call the doctor, who assured me that they never worry about an overactive baby. Phew!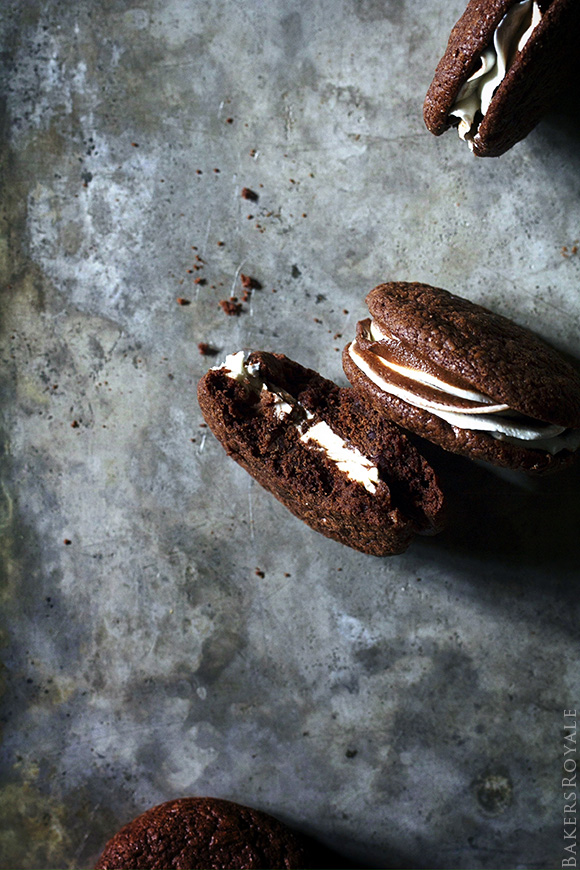 He may have been slow to start on the sweets with all that nausea and dessert-aversion in the early months of this pregnancy, but lately it seems like he can't enough sweets (okay, so I've totally subscribed a complete personality to him already). The way I see it, he might as well because once he's on the outside—I've got news for you little dude, it's gonna be all milk. . . Don't say I didn't warn ya.
Black and White Brownie Sandwich Cookies
Yield: Makes 36 sandwich cookies
Ingredients:
Brownie cookie adapted from Better Homes and Gardens.
Brownie Cookie
1 1/2 cups all-purpose flour
1/2 cup unsweetened cocoa powder
1 teaspoon baking powder
1 teaspoon salt
1 12 ounce package (2 cups) semisweet or bittersweet chocolate pieces
3/4 cup butter, softened
1 1/2 cups packed brown sugar
3 eggs
1 teaspoon vanilla
1 cup semisweet chocolate pieces or white baking pieces
Chocolate Malted Buttercream
¼ cup chocolate malt powder
2 tablespoon sweetened cocoa powder
¼  teaspoon instant coffee granules
¼ boiling water
8 oz. dark chocolate, chopped
½  cup dark brown sugar, (divided use)
¼ cup milk
2 sticks butter
2 ½ cups confectioner sugar
Vanilla Malted Buttercream
2 sticks butter, softened
2-3 cups confectioner sugar
1/2 cup malt powder, dissolved in 1/4 cup hot milk
1 tablespoons vanilla extract
Directions:
To make brownie cookies:
Preparation heat oven to 350 degrees F.
Combine and stir together flour, cocoa, baking powder, and salt;Set aside.
In a medium heavy saucepan combine the 2 cups chocolate pieces and 2 tablespoons of the butter. Cook and stir over low heat until melted. Cool slightly.
In a large mixing bowl beat remaining butter with an electric mixer on medium to high speed for 30 seconds. Add brown sugar; beat until combined, scraping sides of bowl occasionally. Beat in eggs, one at a time, scraping sides of bowl after each addition. Beat in the melted chocolate mixture and vanilla until combined. Add the flour mixture and beat on low speed until well combined. Stir in the 1 cup semisweet chocolate pieces.
Drop dough by rounded teaspoons 2 inches apart onto parchment lined cookie sheets. Bake for 8 to 10 minutes or until edges are firm and tops are slightly cracked. Transfer to a wire rack and cool completely.
To make chocolate malted buttercream:
Combine and stir malt powder, sweetened cocoa powder, instant coffee granules and boiling water; set aside.
Place the ¼ cup brown sugar and ¼ cup milk in a pan an on medium heat, and whisk until the sugar has dissolved. Pour over chopped chocolate and let stand for a few minutes. Stir mixture and place over low heat, and whisk until chocolate has completed melted. Add melted chocolate mixture to malt mixture and  whisk until combined. Set aside to cool to room temperature
In a stand mixer bowl, fitted with a paddle attachment, cream butter and remaining ¼ cup of brown sugar until light and fluffy, about 3 minutes. Turn down the speed and add the cooled chocolate mixture (scraped down bowl as needed). Gradually add the confectioner sugar and beat until smooth.
To make vanilla malted buttercream:
Place butter in stand mixer bowl, fitted with a paddle attachment and beat until butter is light and fluffy. Slowly add 6 cups of confectioner sugar and beat on low until combined. Beat the dissolved malt powder into buttercream, then in vanilla extract. ( Add in remaining confectioner sugar 1 cup at a time (to achieve desired consistency) and beat on medium speed.
Assembly
Fit a pastry bag with a 1M tip and fill it with the chocolate buttercream on once side and and the vanilla on the other side of the bag. Alternately you can fill a pastry bag with each and then snip off the end and place both together in a third pastry bag. Pipe buttercream onto underside of one cookie and place a second on top.
Note:
You may have more buttercream than you need, depending on how much you fill each sandwich cookie. If that is the case, store the buttercream the refrigerator. It will keep up to 2 weeks. To use, bring to room temperature and give it a quick beating with a whisk or in a stand mixer bowl with the paddle attachment to fluff.